You may be familiar with PRP due to its frequent use here at Pravan in treating various musculoskeletal disorders, such as arthritis, tennis elbow, and rotator cuff injuries, among others. PRP is part of a range of therapies that are collectively known as regenerative therapies, and it can now be used to treat hair loss.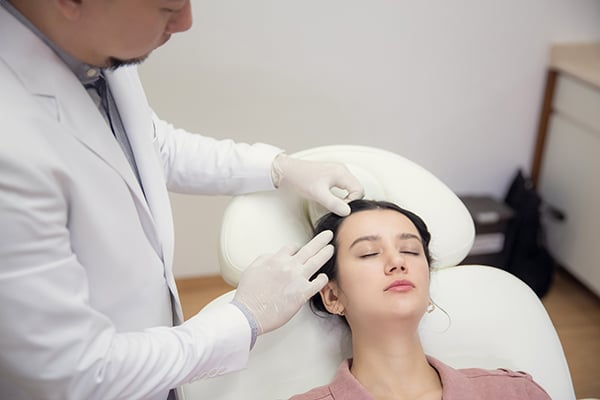 Some facts about Hair Loss
The most common type of hair loss, known as Androgenetic Alopecia or pattern hair loss, affects 80% of men and 25-50% of women overall. Men generally develop their early stages at a younger age. Around 30% of men in their 30s will have noticeable thinning and hair loss, which, if left untreated, will progress over time.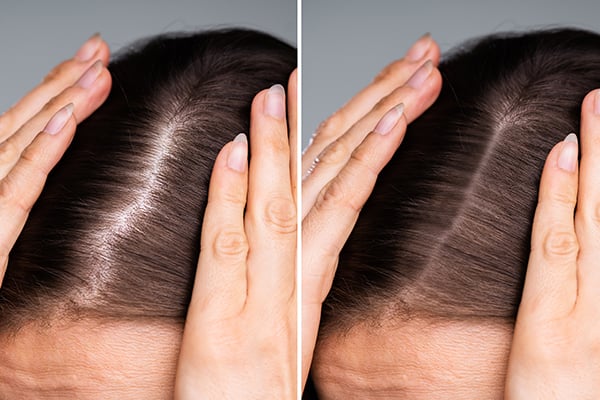 Treatments for Hair Loss
Up until recently, there were only two nonsurgical treatment options available for this type of patient:
Minoxidil (Rogaine)
Finasteride (Propecia).
Both are effective in at least preventing further hair loss in many patients. Still, they can each have side effects and require lifelong use to maintain their respective effects, limiting most patients' ability to remain compliant with their use.
New Treatment in the Block - PRP

PRP is now another viable option for treating pattern hair loss, as it uses your body's ability to heal and regenerate to help with hair loss and aids tremendously. Numerous studies (linked below) have shown significant improvement in:
Hair volume
Hair thickness
Decreased shedding
Overall hair density in a variety of male and female patients with pattern hair loss
This process has numerous advantages to surgical therapies as they don't require any time off from employment, have minimal pain and discomfort, and can be done in as little as 10 minutes after the blood sample is spun down to PRP.
PRP has been compared in head-to-head studies with finasteride and minoxidil and is more effective than either medication. However, there's some data that suggests a combination of topical medication and PRP may be the most effective treatment of all. Even though hair transplant always remains an option, as an invasive treatment, it demands more time commitment and incurrs higher costs when compared with PRP.
While PRP for hair loss isn't permanent, and there will most likely be a need for additional injections in the future, it's an effective and safe option for most patients with hair loss, particularly in its early stages.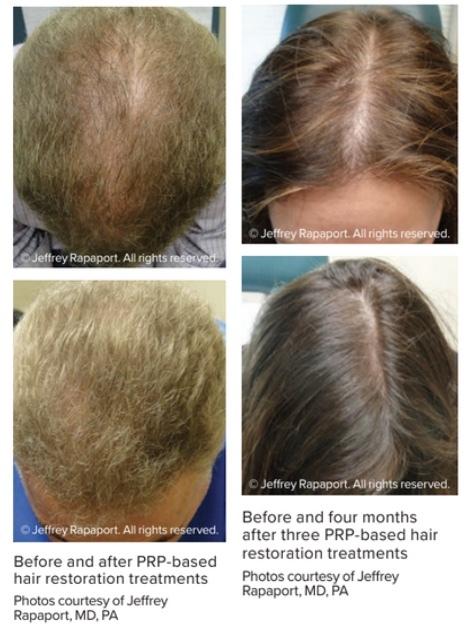 Is consultation needed?

Yes, there will be an initial 15-minute appointment to review the procedure, take some baseline pictures, and discuss whether you are a good candidate for the intervention. Once discussed with patient, we'll start with treatment.
How does the treatment work?

Your blood is drawn and then spun in a centrifuge to concentrate it into plasma and, more specifically, to concentrate the platelets and other growth factors the body uses to regenerate tissue and activate your follicles. This platelet-rich plasma is then injected into the scalp or other problem areas depending on the situation, to restart the hair follicles and increase their ability to produce new hair.
On the day of the procedure, you will have blood drawn here at Pravan, the blood will be prepared in the centrifuge, and you will have a series of injections to the problem areas of the scalp. You can expect 30-40 injections depending on the size of the problem areas, but this is done with a very small needle, and generally pain is not a significant issue due to the small amount of injected PRP in each area and the use of topical numbing medications. There's no specific plan following the procedure other than some scalp redness and possibly some soreness, nothing to limit the rest of your day's activities.
How many sessions does it take?

The procedure will be done using the treatment plan devised by Cleveland Clinic, which involves 3 separate sessions of PRP to the scalp spaced 4 weeks apart, which has the best evidence in terms of effectiveness. After 9 months, there may be a need for additional injections depending on the results. PRP for hair loss is not permanent, but most patients do not need more than a yearly additional injection to maintain the gains from the procedure itself.
Does it work?

There's excellent evidence suggesting PRP is a safe and very effective method of improving overall hair quality, stopping further hair loss, decreasing hair shedding, and regaining hair. It'll only work in patients who still have active hair follicles, which means it will not work for someone with an area of complete baldness without any active hair follicles. This means that starting at an earlier stage of the hair loss process will be essential to maximize the benefits of this therapy. See the images below for examples of its effectiveness.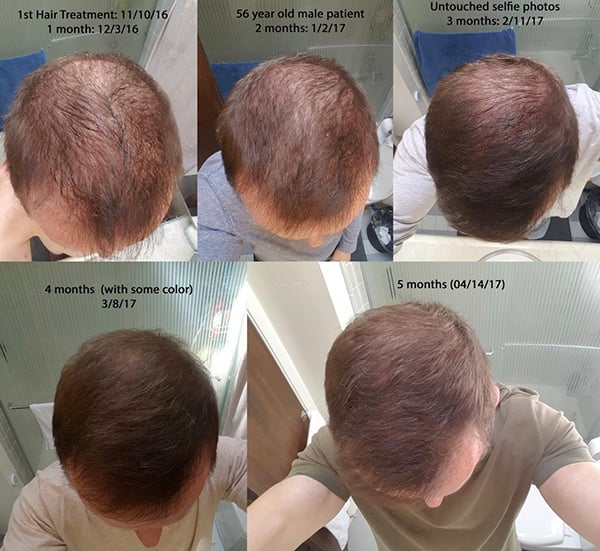 Hair loss can be an embarrassing issue, even though the vast majority of the population will deal with it eventually. Although medically not considered a significant problem, baldness at any age, particularly in women and younger patients with early pattern baldness, can lead to a host of psychosocial problems, including anxiety and depression. Despite its common nature, treatment options are lacking. PRP is an additional option for many patients, which is quick, safe, and effective.

If you'd like to know if you are a candidate for this intervention, don't hesitate to make an appointment for an in-person evaluation and discussion of the process. Call or text us now at 787-339-2639 for more information!
Sources:
Stevens J, Khetarpal S. Platelet-rich plasma for androgenetic alopecia: A review of the literature and proposed treatment protocol. IJWD. (2018), https://doi.org/10.1016/j.ijwd.2018.08.004
Semsarzadeh N, Khetarpal, S. Platelet Rich Plasma and Stem Cells for Hair Growth: A Review of the Literature. Aesthetic Surgery Journal. 2020, Vol 40(4) NP177-NP188 DOI: 10.1093/asj/sjz146
Dervishi G, Liu H, et al. Aulotologous Platelet Rich Plasma Therapy for Pattern Hair Loss: A Systematic Review. J Cosmet Dermatol. 2020; 19:827-835. Doi.org/jocd.13113
Garg S, Bansal A. Platelet-rich plasma in Interventional Dermatology and Trichology: How Far Have We Come? Cosmoderna 2021;1:12
El-Husseiny, RM, Saleh, HM, et al. Comparison between single- versus double-spin prepared platelet-rich plasma injection in treatment of female pattern hair loss: clinical effect and relation to vascular endothelial growth factor. Arch Dermatol Res 313, 557–566 (2021). doi.org/10.1007/s00403-020-02134-6
Garg S, Manchanda S. Platelet-rich plasma—an "Elixir" for treatment of alopecia: personal experience on 117 patients with review of literature. Stem Cell Investigation. 2017;4:64. doi:10.21037/sci.2017.06.07.
Alves R, Grimalt R. Randomized Placebo-Controlled, Double-Blind, Half-Head Study to Assess the Efficacy of Platelet-Rich Plasma on the Treatment of Androgenetic Alopecia. Dermatol Surg. 2016;42(4):491-7.[
Irwig MS, Kolukula S. Persistent sexual side effects of finasteride for male pattern hair loss. J Sex Med. 2011;8:1747–53.
Gupta AK, Renaud HJ, Rapaport JA. Platelet-rich Plasma and Cell Therapy: The New Horizon in Hair Loss Treatment. Dermatologic Clinics. 2021; 39:3, 429-445. doi.org/10.1016/j.det.2021.04.001
Gupta AK, Carviel JL. Meta-analysis of efficacy of platelet-rich plasma therapy for androgenetic alopecia. J Dermatol Treat. 2017;28(1):55–8.
Ramadan, WM, Hassan, AM, Ismail, MA, El Attar, YA. Evaluation of adding platelet-rich plasma to combined medical therapy in androgenetic alopecia. J Cosmet Dermatol. 2021; 20: 1427– 1434. doi.org/10.1111/jocd.13935
Gentile P. The new regenerative and innovative strategies in hair loss. EClinicalMedicine. 2021;37:100995. Published 2021 Jun 28. doi:10.1016/j.eclinm.2021.100995

Follow us on IG in our journey to health and wellness