Using the latest products and techniques, Pravan's new LOVE YOURSELF program promotes outside beauty.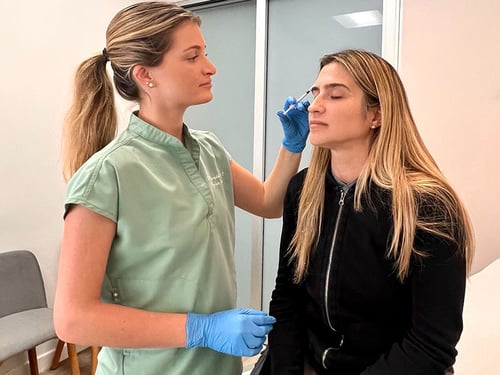 Our new LOVE YOURSELF program involves treatment with neuromodulators, which includes Botox, among other brands. They're used to smooth skin and prevent wrinkles by relaxing facial muscles, most commonly but certainly not limited to the forehead, frown lines between the eyes, and crow's feet. Neuromodulators can also be used therapeutically to treat symptoms of TMJ, migraine headaches, and hyperhidrosis (excessive sweating).
At Pravan, you can expect availability for appointments within 1-2 weeks and no waiting times on the day of your appointment. In and out without wasting the rest of your day! Each LOVE YOURSELF appointment will last approximately 30-45 minutes, depending on the treated areas. Our provider will answer any questions you may have during your appointment and provide a thorough evaluation of your face for individualized and precise treatment so quickly that you can schedule it during lunchtime. Upon checkout, you'll be scheduled for your follow-up appointment 2 weeks post-treatment for a quick re-evaluation and touch-up free of cost if needed. Ciudadela, our location, offers valet parking for your convenience.
We consider each patient's needs and keep you comfortable using different techniques, such as numbing creams before treatment and the smallest possible needles for minimal discomfort.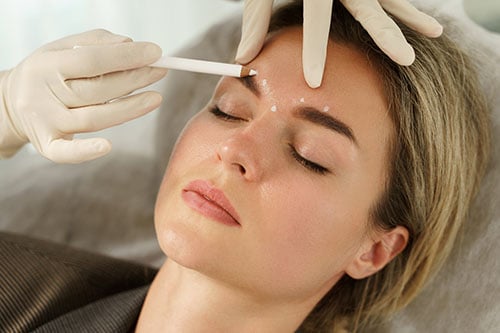 NEW: Microneedling and PRP

LOVE YOURSELF program also includes treatment with microneedling and PRP (Platelet Rich Plasma). Using the first FDA-approved microneedling device called SkinPen, we perform medical-grade microneedling, a procedure that uses tiny needles to create microchannels in the skin. This triggers the immune system to increase blood flow, stimulate collagen and other growth factors, and remove debris from the skin. The result is an improvement in skin texture, a decrease in pore size, a reduction of fine lines and wrinkles, and an improvement in acne scars.

We can customize treatment based on individual needs and concerns by adding PRP to the microneedling treatment. This means we are infusing your own platelet-rich plasma into those micro-channels to stimulate an immune response.

PRP can also be used for therapy for hair growth - treatment is now available at our clinic with our sports medicine physician, Dr. Miguel Agrait.
Our Providers

Raquel Berezdivin, PA-C
Physician Assistant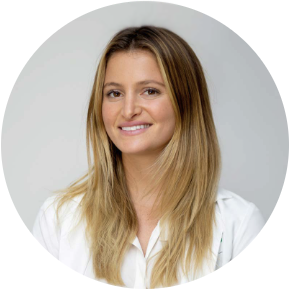 Our PA, Raquel Berezdivin, holds a Bachelor of Science from Tufts University and a Master's degree in Medical Science from the Physician's Assistant program at Nova Southeastern University. Her training included two dermatology rotations that sparked her interest in skin issues and esthetics. Since then, she has done a one-year internship in an aesthetic dermatology practice in south Florida. She's licensed to practice as a Physician Assistant in Puerto Rico and Florida and certified by the National Commission on Certification of Physician Assistants (PA-C). During the last few years, she has obtained multiple certifications that include:
Allergan Medical Institute - Hands-on Training Program of Botox, Kybella, Juvaderm Ultra, Ultra Plus, Volbella, Vollure, Voluma
American Academy of Facial Esthetics Level I - training on the use and administration of botulinum toxin injectables
Revive Training Microneedling and PRP
---
Carla Tamayo, MD
Internal Medicine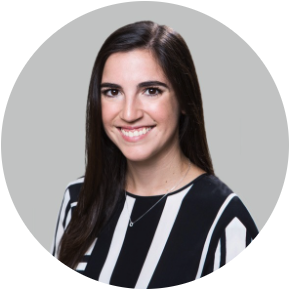 Dr. Carla Tamayo is a board-certified Internal Medicine physician and one of our primary physicians as well. She holds a bachelor's degree in Chemical Engineering from the Polytechnic University of Puerto Rico, a Medical Doctorate from the University of Puerto Rico - Medical Sciences Campus, and an Internal Medicine Residency from Stanford University Hospital. Her licensure and certifications acquired over her years of practice are:
ABIM Internal Medicine Board
PR & CA Medical License
IAPAM Level 1 Cosmetics Injectables
Allergan Aesthetics - Kybella Injection Training
Perry Health - Neurotoxins and Facial Fillers
---
More Information
Pricing

The pricing of treatments may vary depending on your needs. As of now, our Botox treatment starts at $14 per unit. Keep posted for pricing on new services.
Appointments are easy to coordinate at our state-of-the-art clinic at Ciudadela, with valet parking for your convenience and no-waiting time.

Call us or text us now at 787-339-2639 for more information on pricing and appointment availability!

Follow us on IG in our journey to health and wellness